Posted by Jessica Allen on Jan 21st 2021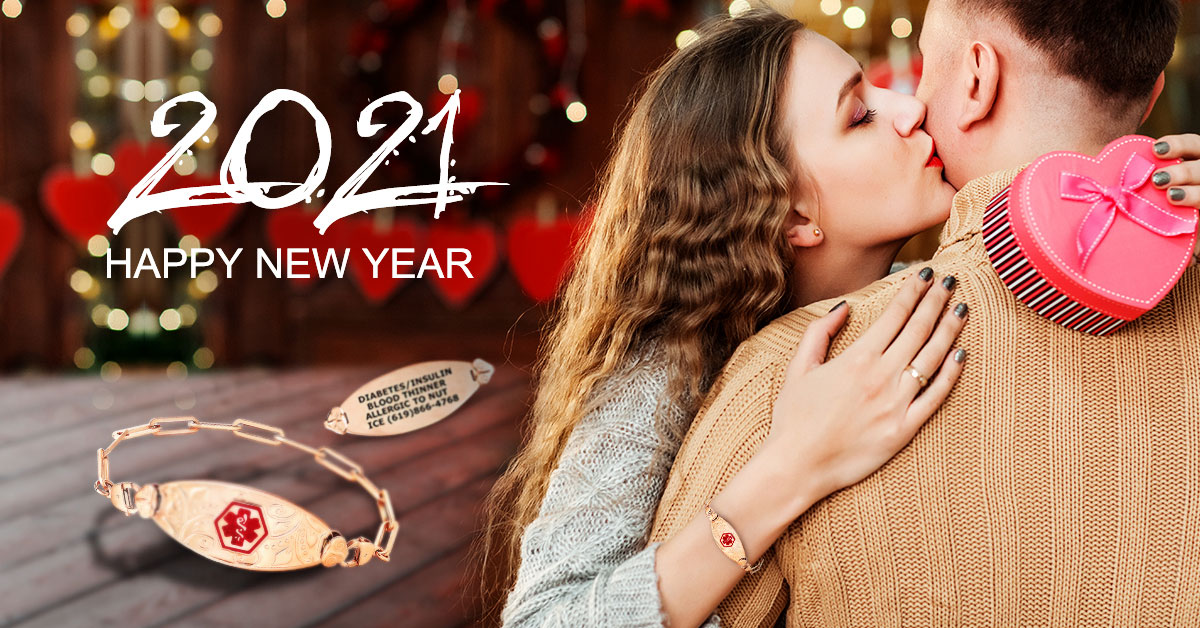 If you're like 46% of people in the United States, then your New Year's resolution for 2021 has something to do with your health. Perhaps you want to eat a healthier diet, go to the gym on a regular basis, or quit smoking. You're definitely not alone! Year after year, New Year's resolutions related to health are the most common type of goal set by Americans. And especially in the current era of the COVID crisis, people are striving more than ever to feel in control of their health.
New Year's resolutions are a wonderful way to keep goals in mind and improve throughout the year. Here are a few ways to increase your chances of following through, instead of giving up mid-February!
How can a medical ID help with my New Year's resolution?
A medical ID can serve as a visual reminder of your health-related New Year's resolution! Every time you glance down at your wrist and see your medical ID, you'll get an instant reminder of the goal you set for yourself. A report from 2014 showed that 23% of people failed their resolutions because they simply forgot about them. Well, it's difficult to forget your resolution when you're wearing a reminder on your wrist!
There are many ways to improve your health, but one of the most common New Year's resolutions is to be more active. Activities such as running, biking, and hiking can have great benefits! But they also come with some risks, especially if you have a chronic condition like asthma or diabetes. These risks mean that it's a good idea to wear a medical ID while exercising.
Anyone with an allergy, medications such as blood thinners, or heart problems should wear a medical ID as well. The simple act of slipping on a bracelet or necklace with your medical information engraved on it can improve the medical care you receive in emergency situations. These invaluable accessories actually have the ability to save your life! Therefore, your medical ID can act as a safety net for your New Year's resolution.
What are the best ways to stick to my New Year's resolution?
Aside from wearing a medical ID, here are a few quick tips to help you achieve your New Year's resolution.
●Break ambitious resolutions down into smaller, more doable steps.
●Acknowledge your successes, big and small.
●Share your New Year's resolution with others who can keep you accountable.
●Cultivate an attitude of gratitude towards yourself, and be thankful for each step towards success.
Why should I choose a Divoti medical ID?
When it comes to health-related New Year's resolutions, a Divoti medical ID is the perfect choice. Not only does Divoti have dozens of different styles for everyday wear, but they also have a collection of sports medical IDs that are specifically designed to be worn during athletic activities.
Divoti medical IDs feature plenty of space for important medical information as well as your emergency contact's name and phone number. A medical ID provides peace of mind in addition to being the perfect reminder of your New Year's resolution.